Venue
The conference will be held at the Institute for Creative Technologies in Playa Vista, a neighborhood of Los Angeles that is close to the airport and about 3 miles from the beach.
Travel
Air
The most convenient airport to the conference venue is Los Angeles International Airport (LAX), offering non-stop connections throughout North America as well as to South America, Europe, Asia and Oceania. Transportation options between the airport and ICT are as follows.
A taxi ride typically costs $25–30 and takes about 10 minutes.
A shared van ride costs $18–20 per person (+tip); reservations are not necessary, but can be made with Supershuttle or Prime Time Shuttle.
Public bus service is available but inconvenient: take the free shuttle bus "C" from the terminal to the LAX Metro Bus Center, then catch Culver City Bus Route 6 or Rapid 6 to the corner of Centinela and Sepulveda, which is a 1200m walk from ICT. The fare is $1 (exact change) and the ride (including transfers) typically takes 30–60 minutes. (If your flight arrives at Terminal 1 or 2 and it's a nice day you may prefer to skip the shuttle bus and just walk to the LAX Metro Bus Center, it's 1200m by foot from Terminal 1.)
Sometimes cheaper flights can be found to other area airports, but they are farther away from ICT and ground transportation is less convenient: Long Beach (LGB) 25 miles; Burbank (BUR) 26 miles; Orange County (SNA) 45 miles; Ontario (ONT) 59 miles.
Rail
ICT is not served by rail, but Amtrak has a series of connecting bus services which include a stop at the Howard Hughes Center (station code: WCH), about a mile (1600m) from ICT. These buses can only be booked in conjunction with a train ticket on Amtrak, and may be useful if you travel to Los Angeles by train.
Car
Los Angeles has an extensive network of roads and freeways, making it easy to get anywhere by car (if you don't mind the traffic). However, participants who stay at the Doubletree (or one of the other nearby hotels) probably won't need a car for the duration of the conference.
Parking is available in our garage at a cost of $20.40 for a full day (no in and out): enter on Waterfront Drive, take a ticket, and pay with a credit card on exit. Street parking regulations are are strictly enforced and are being ticketed aggressively. There is a very limited amount of all-day free street parking on Lake Center Drive (see map below), which usually fills up early in the morning. There is free 4-hour parking on Waterfront Drive and Artisans Way, and the time limits are strictly enforced. Due to construction there are many temporary parking restrictions that change daily, so pay close attention to signs if you park on the street.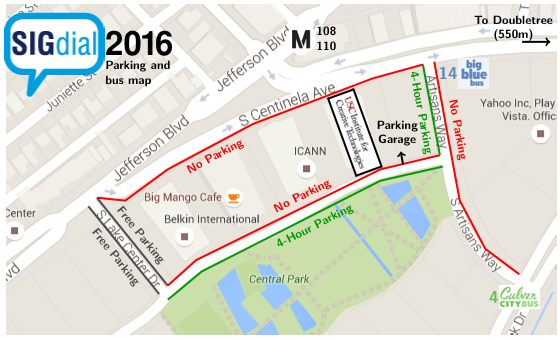 Bus
ICT is served by the following bus routes (see map above for location of bus stops):
Travel from Interspeech
Since Sigdial is immediately after Interspeech (without a travel day), most participants will probably opt to fly from San Francisco to Los Angeles. The Interspeech venue is about equidistant between San Francisco (SFO) and Oakland (OAK) airports. Both airports have numerous flights to Los Angeles throughout the day: SFO–LAX is presently served by American, Delta, Southwest, United, and Virgin America, while OAK–LAX is served by Boutique Air, Southwest, and Spirit.
We plan to start Sigdial in the afternoon, giving participants the option of flying either in the evening after Interspeech or the next morning before Sigdial.
Alternatively, driving takes about 6–7 hours, not accounting for traffic and stops. Public surface transport (bus/rail) takes 10–12 hours, and would require overnight travel if you don't want to miss any part of Interspeech or Sigdial.
Accommodation
We have reserved a block of rooms at the Doubletree by Hilton Hotel Los Angeles – Westside, which is the closest hotel to ICT (800m walking distance, or ½-mile). The rate is $159+tax per night and includes discounted overnight parking ($10 instead of $20). The group rate is valid until August 15, 2016 or until the group block is sold out, whichever comes first.
Or call the hotel at +1-866-819-5320 and ask for group rate "SIG".
Update August 4, 2016: Availability of the Sigdial rate is currently unstable, presumably because the room block is close to being exhausted. We are working with the hotel to see if rooms can be added to the block.

Another hotel with a discounted rate for visitors is the Jamaica Bay Inn in Marina del Rey. This hotel is 4 miles (6 km) from ICT – not quite walking distance, but there is a direct (though not very frequent) bus route, Metro 108. The discount rate is $169+tax per night. This is a general USC rate (not specific to Sigdial) and availability is not guaranteed, but as of August 4 the rate is available for all conference nights. The rate can be booked by using Corporate / Promotion Code: USC on the hotel web site.
Information about other hotels in the area is available on the ICT hotels web page. The first four (including the Doubletree) are within walking distance (under 1600m or 1 mile), while the others are farther away and would require some form of transportation to ICT.