Venue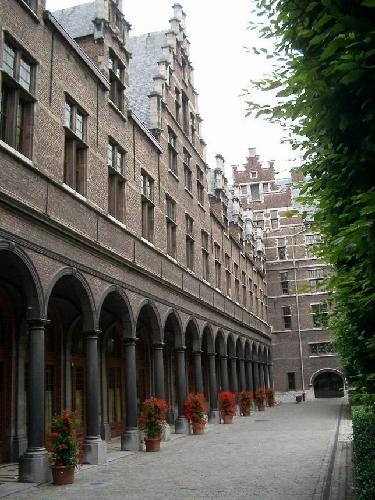 SIGDIAL 2007 was held in the Hof van Liere, located at the Stadscampus (city campus) of the University of Antwerp. The city campus is at a 15 minutes walk from the central railway station; you can also take tram 10 or 11 from central station to the city campus. The venue of Interspeech 2007 is the Flanders Congress and Concert Centre (FCCC), which is right outside the central station.

address:
Hof van Liere
Prinsstraat 13
2000 Antwerpen
Getting to Antwerp
Antwerp can be reached via Brussels Airport and then to Antwerp by train or shuttle service.

Both Amsterdam Schiphol and Paris Airport (Charles de Gaulle / Roissy) have high speed train links to and from Antwerpen.

More about the city of Antwerp (including hotels, getting around, etc.) can be found here.
Hotels
Detailed hotel information and booking can be obtained here. A complete list of hotels near central station in English can be found here.

Assuming that registrants check in the day before the Workshop (August 31) and leave the day after (September 3), to stay for 3 nights in a single room, the following is a list of rates for hotels that provide easy commute access to Hof van Liere:

Alfa De Keyser ****
De Keyserlei 66-70, 2018 Antwerpen
Located near Central Station.
€ 235

Hotel Residence ****
Molenbergstaat 9-11, 2018 Antwerp
Located between Central Station and Hof van Liere.
€ 315

Prinse ****
Keizerstraat 63, 2000 Antwerp
Located very close to Hof van Liere.
€ 291

Park Plaza Astrid Antwerp ****
Koningin Astrid Plein 7, 2018 Antwerp
Located near Central Station.
€ 367 (double)

Hotel Euro ***
St. Jacobsmarkt 91-93, 2000 Antwerpen
Located between Central Station and Hof van Liere.
€ 195

Colombus Hotel ***
Frankrijklei 4, 2000 Antwerp
Located between Central Station and Hof van Liere.
€ 270

Agora Hotel ***
Koningin Astridplein 43, 2018 Antwerp
Located near Central Station.
€ 255

Hotel Keyserlei
van Ertbornstraat 10, 2018 Antwerp
Located between Central Station and Hof van Liere.
€ 213.50