Venue
The Sigdial 2012 Conference will take place at the Seoul National University Cultural Center Assambly Hall ( C ). (the building NO. 73 in the guide map, guide map(small size))
Address : Cultural Center(Bldg #73) Assambly Hall, 1 Gwanak-ro, Gwanak-gu, Seoul 151-742

* A floor plan of the space where the conference will be, with the important rooms (room for oral presentations, demo and poster rooms, bathrooms, coffee areas) marked.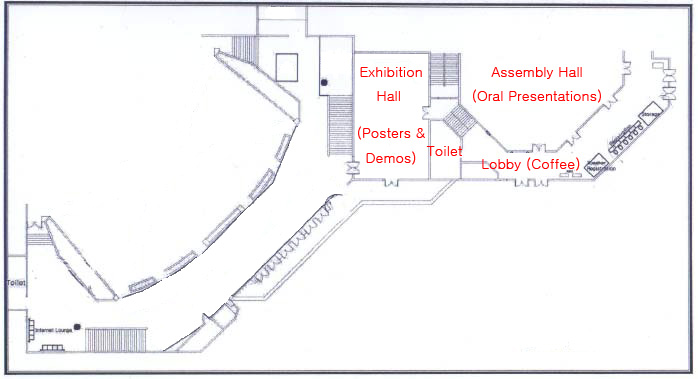 Floor plan of Culture Center

* Venue: Culture Center (Building 73) of Seoul National University
* Room for oral presentations: Assembly Hall
* Room for Posters and demos: Lobby
* Coffee area: Lobby
* Banquet: Auditorium (101), Engineer House (Building 310)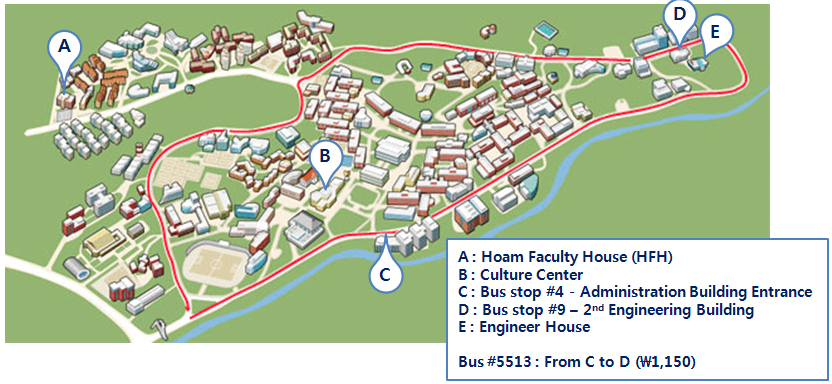 How to get to the banquet place: Auditorium (101), Engineer House
Take Bus #5513 at the bus stop #4 (Administration Building Entrance) and Take off at the bus stop #9 (Engineering Building)



Area map
* A map of the area, with the conference hotels and the conference building marked (see the NAACL conference handbook for examples)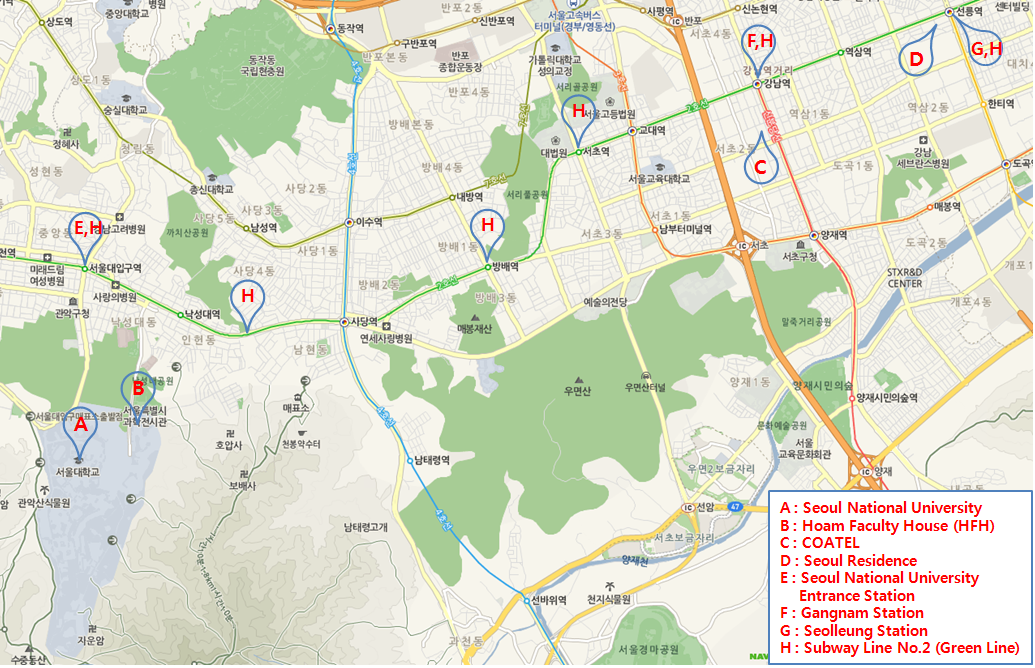 Transportation
From the Airport
* Limousine Bus
Limousine bus is a convenient and inexpensive way to get to SNU Gwanak Campus from Incheon International Airport. Take airport limousine bus number 6017 or 6003. The bus 6017 comes directly from Incheon to SNU rear gate (Hoam Faculty House) within 70 minutes. The bus 6003 comes to SNU main gate via Gimpo Airport, and it takes 110 minutes under normal traffic conditions. Service is available everyday from early morning to night time at Incheon International Airport with no charge for the baggage.

* Taxi Service
The fare for taxi service between Incheon International Airport and SNU Gwanak Campus is around 60,000 won depending on the traffic situation. By Deluxe Taxi (Mobeom Taxi), which offers kinder service, the approximate fare is 80,000 won.

* Call-van Service
A Call-van is called "Jumbo Taxi" here and service can hold up to 5 passengers and up to one ton of baggage. Fares are about 65,000 won from Incheon Airport to SNU. For reservations, please call 1644-1236 or 1423 (domestically) or 82-70-8237-8200 (from overseas).



Using Public Transportation
Seoul city has a very organized public transportation system and you may come and visit Seoul National University easily by using the bus and subway.


Subway
When using the subway to visit Seoul National University, make sure to take Subway Line No. 2 (Green Line) and stop either at the Seoul National University Entrance Station, the Naksungdae Station, or the Shillim Station.
Subway Line No. 2 (Green Line), Seoul National University Entrance Station (Exit No. 3)

* Even though Seoul National University is near the entrance station, it is not within the walking distance (3 km, 1 hour on foot). You will need to take a bus or a taxi to get to the university.
* Be sure not to confuse the Seoul National University Entrance Station with the Seoul National University of Education/Court or Prosecutor's Office Station.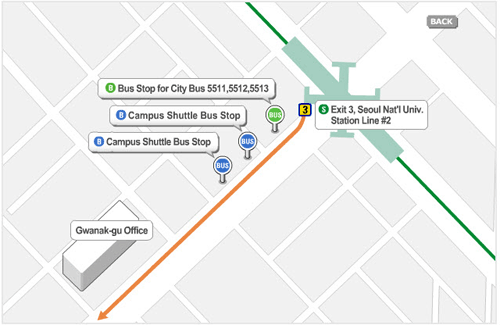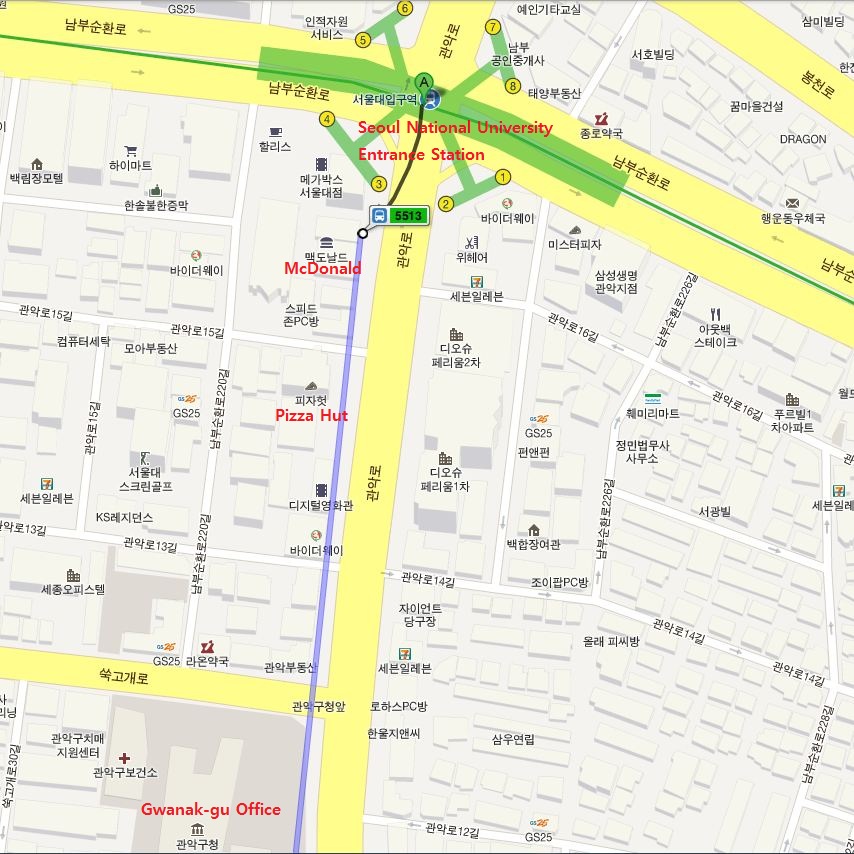 After exiting exit No.3, walk 50m towards the Gwanak-gu Office.
Take #5513 bus.
Alight from the bus at the stop of Administration building. (6th stop from the start)
Walk to Assembly hall(JungGangDang in Korean) in the Culture Center. (200m)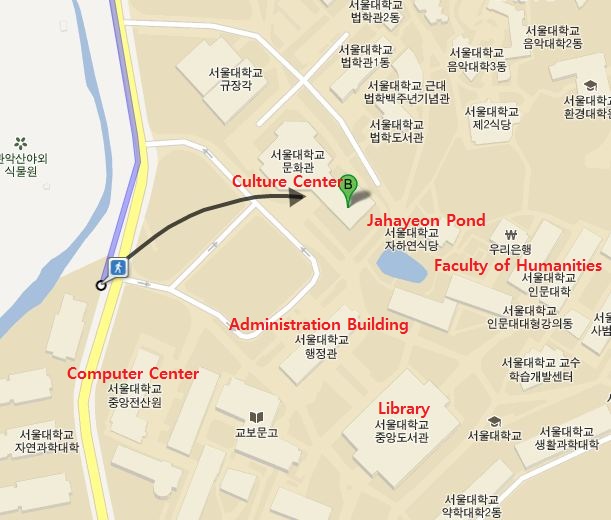 the extra information is here.



Hotels
* You should mention that you belongs to the SIGdial 2012 member before ther reservation.
Hoam Faculty House (HFH)

ROOMRATE


Room Type
Rates (KW)
Rates (KW)
Standard
Double (DB)
Double bed Room
20
85,000
Twin (TW)
Twin bed Room
18
85,000
Triple (TR)
Triple bed Room
12
100,000
Ondol (KS)
Korean Stype Ondol
12
85,000
Deluxe
Double (DD)
Deluxe Double
18
120,000
Twin (DT)
Deluxe Twin
14
120,000
Suite
Royal (RY)
Royal Suite
1
250,000
Junior (JS)
Junior Suite
2
200,000
Business
Business Room (RB)
Royal suite BS
1
250,000
Business Room (BS)
Business Room
1
200,000

International calls, fax, and laundry service are available for guests' Convenience.
A HFC membership card holders are entitled to have a discount of 10~30%
Benefits of staff member of SNU and invited professors at Hoan Faculty House :
Long-term lodging of 1 ~ 6 months is available and 40% discount on guest room rate could be applied.



RESERVATION
&nbsp TEL: 82-2-871-4053
&nbsp E-mail: front_at_hoam.ac.kr
&nbsp Hoam Faculty House (HFH)



Seoul Residence

ROOMRATE


Room Type
RackRate
Special Rate
Sqm
Monthly
Daily
Monthly
Daily
Studio Double
3,600,000
160,000
2,550,000
99,000
52.89m2
Studio Twin
3,600,000
160,000
2,610,000
110,000
52.89m2


* Above Room Rates- 10% V.A.T already included (No SVC)
* Long-term (Monthly) Rate- Based on 30-day stay
* BREAKFAST IS INCLUDED, EXCEPT Studio Deluxe (Breakfast Buffet is \7,700 with tax included) Breakfast Buffet: Salad, Fruit, Cereal, Toast/ Pastry, Sausage, Soup, etc.


RESERVATION
&nbsp Sales Manager: Bada Han
&nbsp TEL: 02-6202-3664 FAX: 02-6202-3669
&nbsp Mobile: 010-5018-3664 E-mail: bld0614_at_naver.com Seoul Residence info
Seoul Residence info2




COATEL

ROOMRATE
Less than 30 (included 10% V.A.T)

| Room Type | RackRate | Special Rate |
| --- | --- | --- |
| Deluxe Double | 200,000 | 132,000 |
| Deluxe Twin | 220,000 | 132,000 |
| Exeutive Suite | 300,000 | 175,000 |
| Coatel Suite | 400,000 | 220,000 |



RESERVATION
&nbsp Sales Manager: Park Seo Young
&nbsp TEL: 02-6288-3402 FAX: 02-6288-3408
&nbsp Mobile: 010-7471-6288 E-mail: sales3_at_coatel.co.kr
&nbsp www.COATEL.co.kr